Engine air management – maximum power, lower emissions
Combustion engines require air to burn fuel with the least possible residue. In addition, during operation they generate a stream of exhaust that can be used in many different ways. Precisely controllable butterfly valves from Knorr-Bremse offer multiple options.
Contact
Knorr-Bremse Systeme für Nutzfahrzeuge GmbH
Throttle valves
Throttle valves from Knorr-Bremse have two main functions: First, they support vehicle deceleration by controlling the exhaust back pressure from the engine. Second, throttle valves are used to precisely control the exhaust stream for thermal management in the exhaust gas handling system. They are essential to ensuring exhaust gas treatment works efficiently.
The specialized valve design makes it possible to modulate the exhaust stream over a larger engine speed range. The valves are activated either pneumatically or via an electronic motor. Electronic drive throttle valves can precisely control the opening and closing position.
Key benefits:
Improved vehicle control
Improved deceleration over the entire engine speed range
Reduced risk of brake fading on continuous slopes
Reduced parking brake wear and lower maintenance costs
Reduced emissions during a cold start
Reduced Adblue consumption while maintaining the efficiency of the aftertreatment system
Customized adjustments to individual engine and vehicle requirements possible
Can be used to mount injectors, lambda, pressure and temperature sensors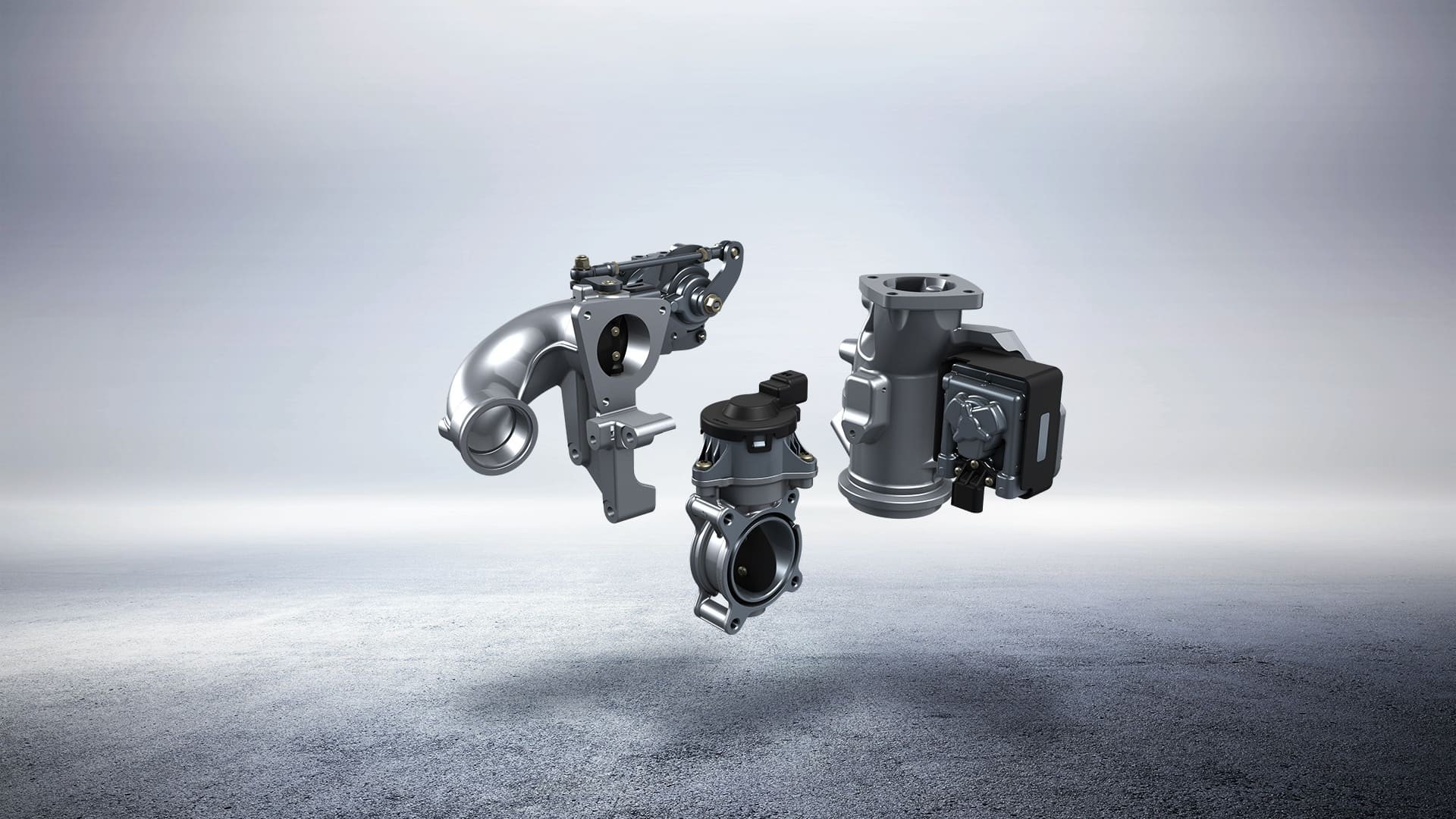 Exhaust gas recirculation
Another way to reduce the emissions of combustion engines is to use an exhaust gas recirculation system. It mixes the fresh air flowing into the engine with a cooled sub-stream of the exhaust. This reduces nitrogen oxide emissions, in particular. To facilitate operating point dependent regulation of the exhaust gas recirculation quantity, high positioning precision and quick activation of the exhaust gas recirculation valve are essential. At the same time, the valve must be highly resistant to the technically challenging environmental conditions. With its expertise in activation technology, Knorr-Bremse makes valves for exhaust gas regulation into precise and robust actuators in the engine air management control circuit.
Key benefits:
Lower exhaust emissions
Optimal control depending on the current operating status
High positioning precision
High resistance