Electronic braking control – Control via driving dynamics
Electronic braking control can activate each wheel brake individually. This facilitates complex control of vehicle dynamics, as well as the use of a wide range of driver assistance systems and even highly automated driving.
Contact
Knorr-Bremse Systeme für Nutzfahrzeuge GmbH
In recent decades, vehicle manufacturers have used different kinds of technical systems for braking control. Purely pneumatic systems are still in use today in some markets, although the more powerful electronic braking system is gaining dominance around the world. This is because of differing statutory requirements, as well as different customer profiles. ABS and EBS systems are considered standard equipment today for trucks and buses. In 2022, the number of ABS/EBS systems delivered by Knorr-Bremse worldwide passed the 13 million mark. Global Scalable Brake Control (GSBC) from Knorr-Bremse combines previously disconnected system landscapes, creating all new opportunities.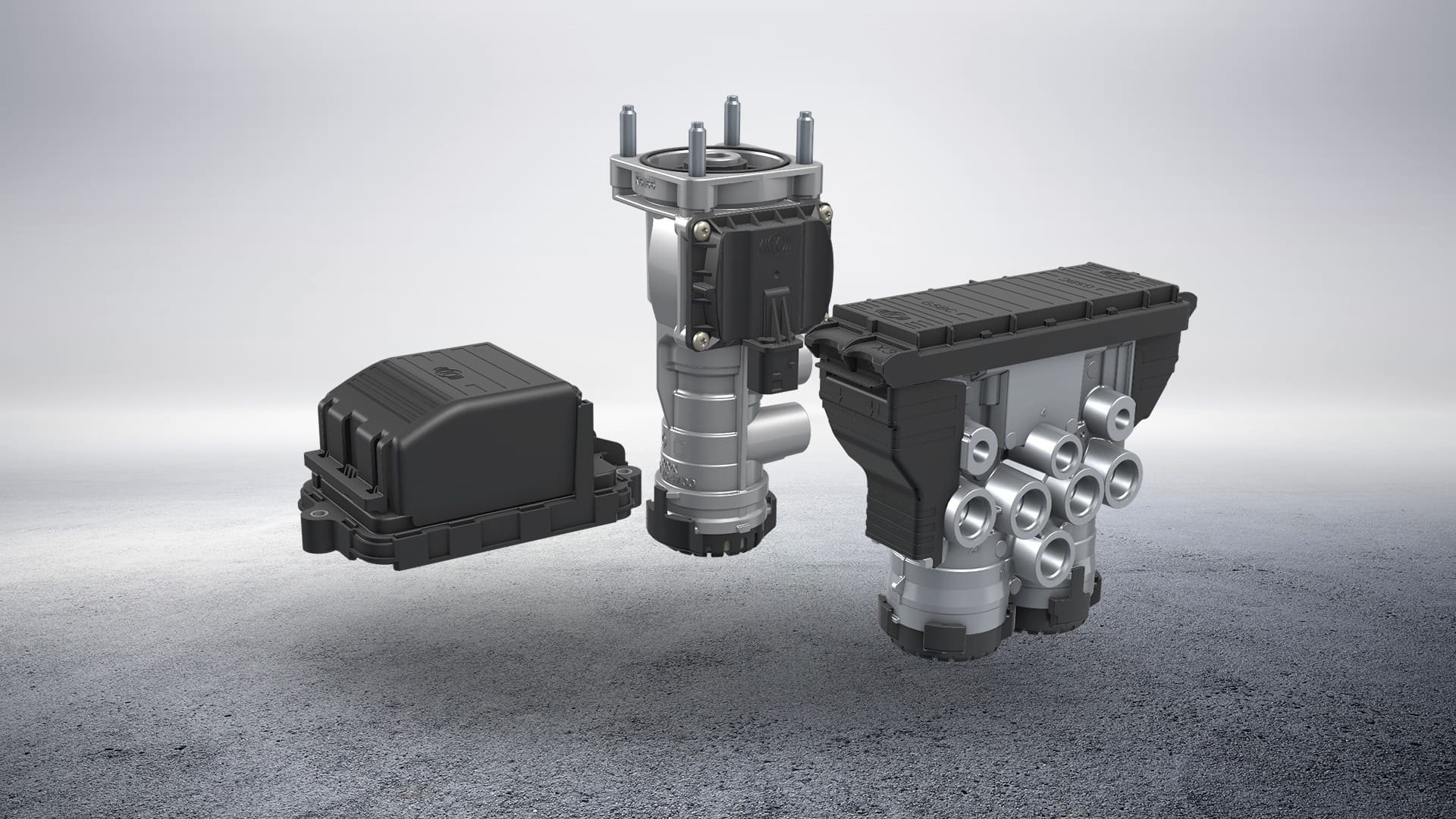 Anti-lock braking system (ABS)
The Anti-lock braking system (ABS) is an extension of a purely pneumatic braking system, and allows for electronic intervention. The braking process initiated by the driver is transferred pneumatically from the foot brake valve to the wheel brake. In addition, the ABS monitors wheel speeds and prevents wheels from becoming locked during braking, thereby avoiding uncontrolled swerving by the vehicle.
The same system can be used to implement additional functions such as Anti-Slip Regulation (ASR), the Electronic Stability Program (ESP) or the Hill Start Aid.
Key benefits:
Simple control principle
Shorter braking distances
Reliable vehicle guidance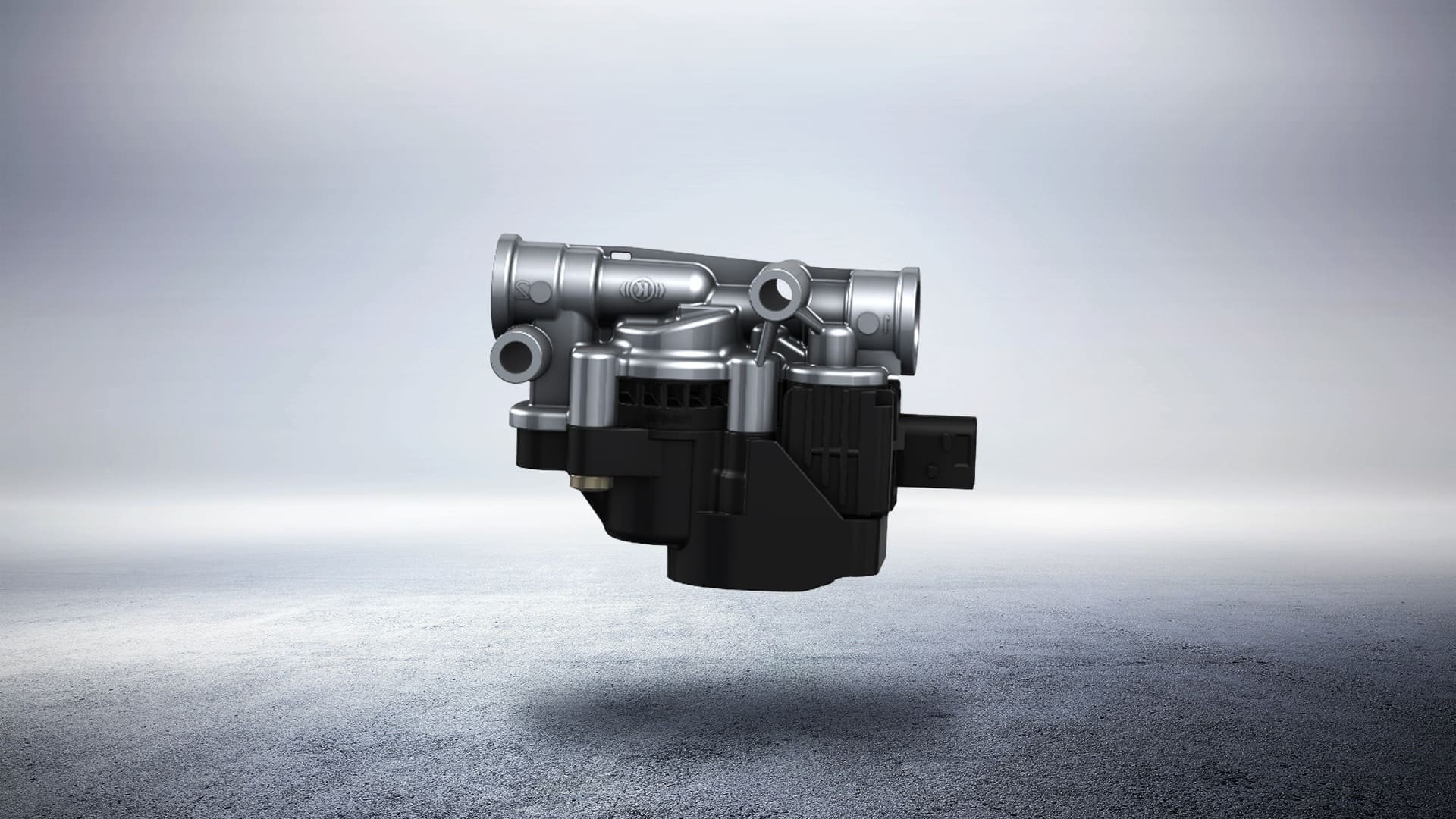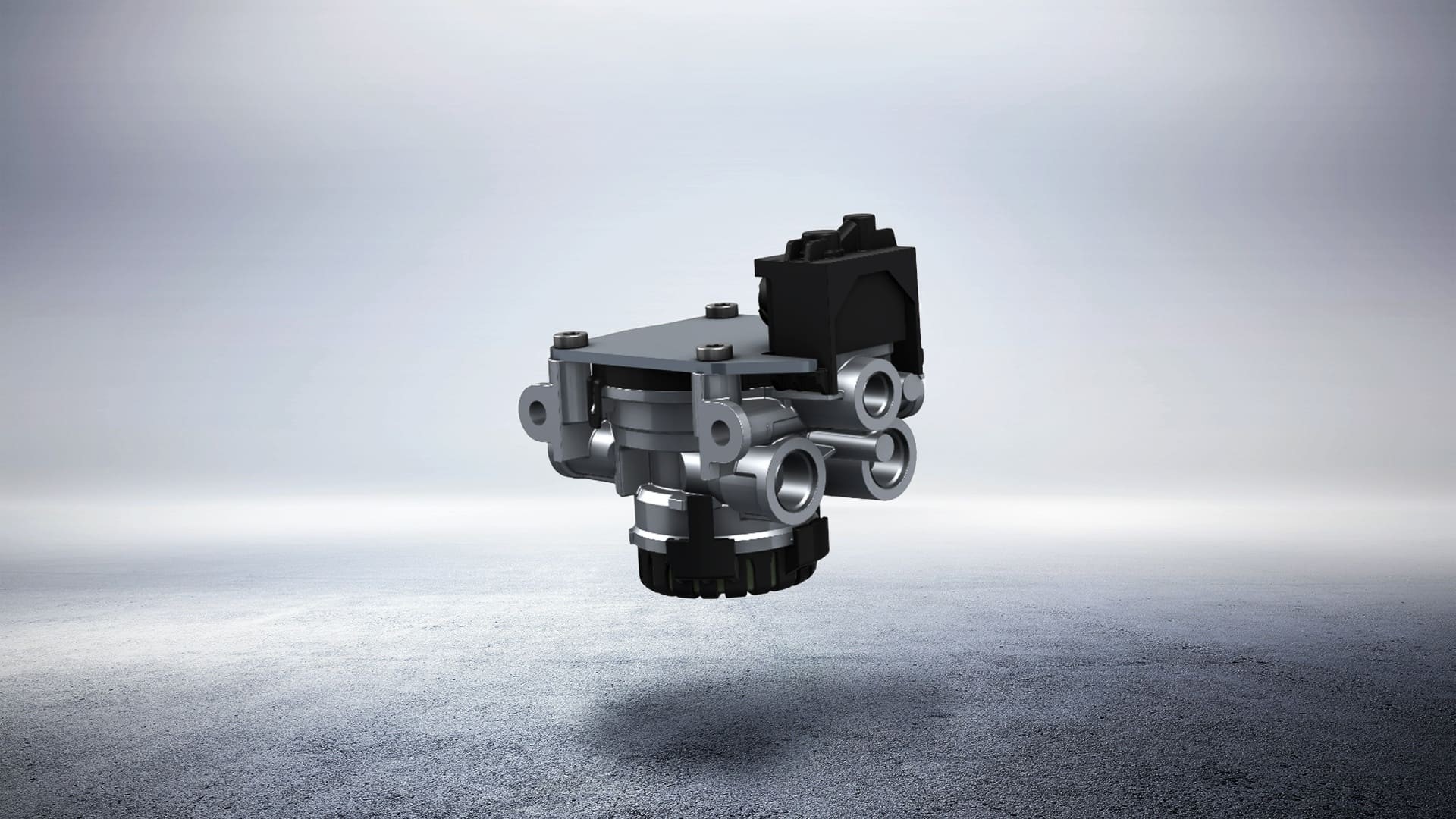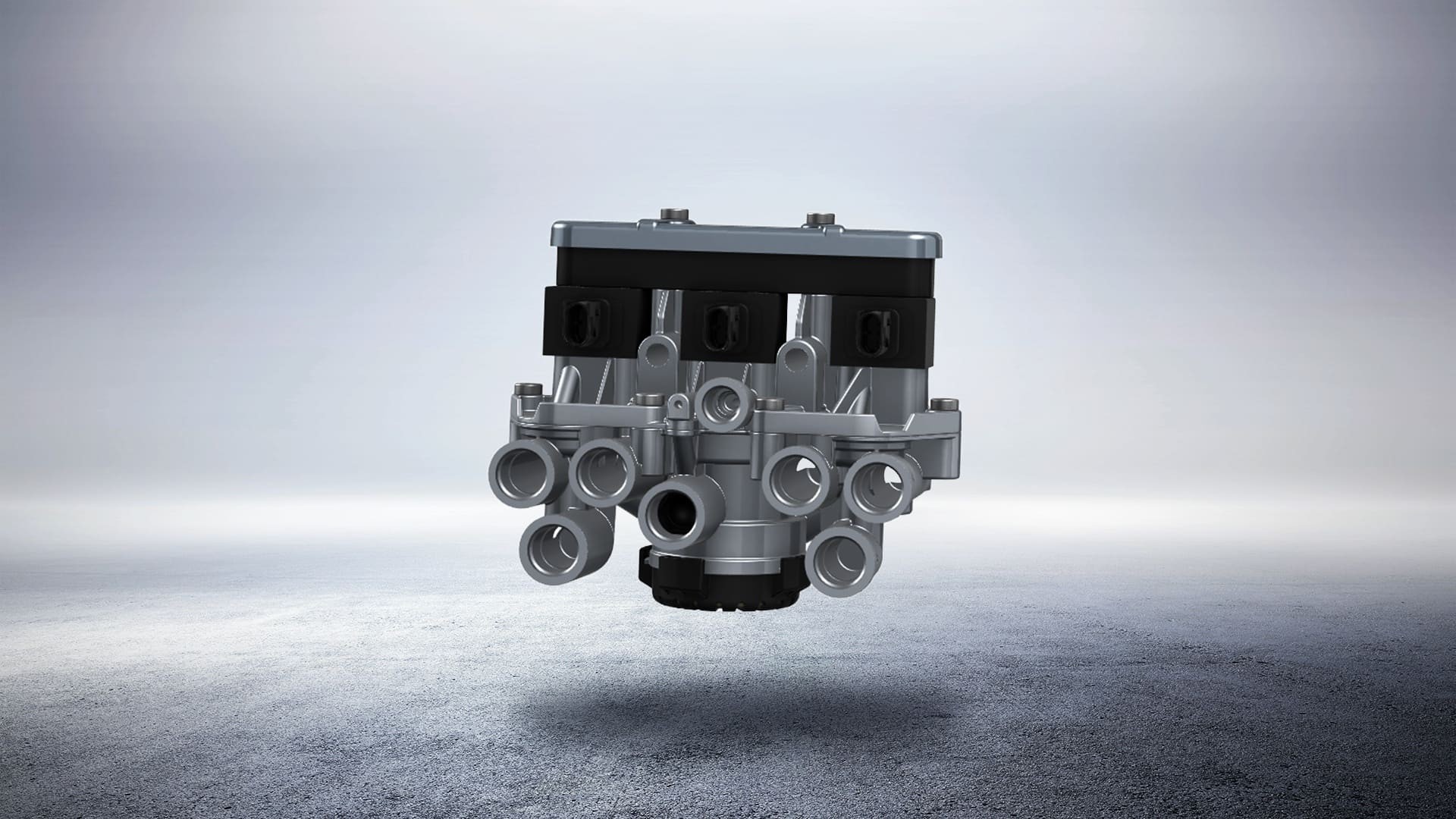 Electronic Braking System (EBS)
EBS or brake-by-wire systems are fully electronically controlled braking systems. A pedal position sensor is used to detect the driver's braking intention. The control device uses additional factors like vehicle speed, load condition and wheel speeds to calculate the pressure required for each axle. This information is delivered by the CAN-Bus to the electro-pneumatic modulators (EPM), which regulate the braking pressure. The speed sensors transmit the resulting delay back to it. This brake-by-wire principle is the basis for many other braking comfort and safety applications, up to automated driving.
Key benefits:
Individual pressure regulation of each axle, resulting in optimal, load-dependent braking force regulation while maintaining the same pedal feel for the driver
Harmonious distribution of the deceleration intention to the sustained-action and service brakes (brake blending)
System handles pressure regulation for the trailer, and optimally coordinates the braking of the traction vehicle and trailer (Coupling Force Control)
Technical requirement for automating the braking process via driver assistance systems
Adjustment of braking force distribution to harmonize lining wear on all axles (lining wear control)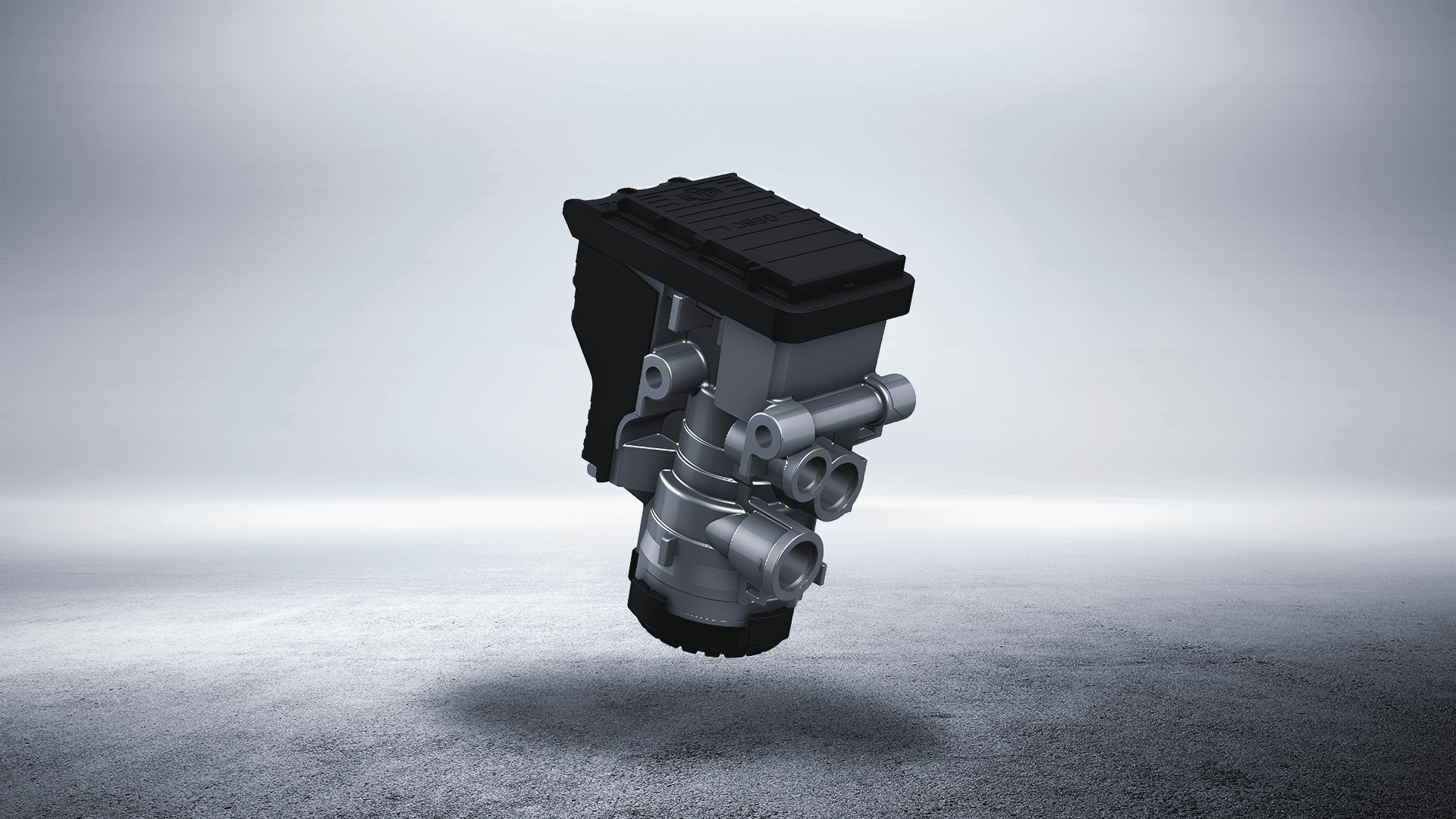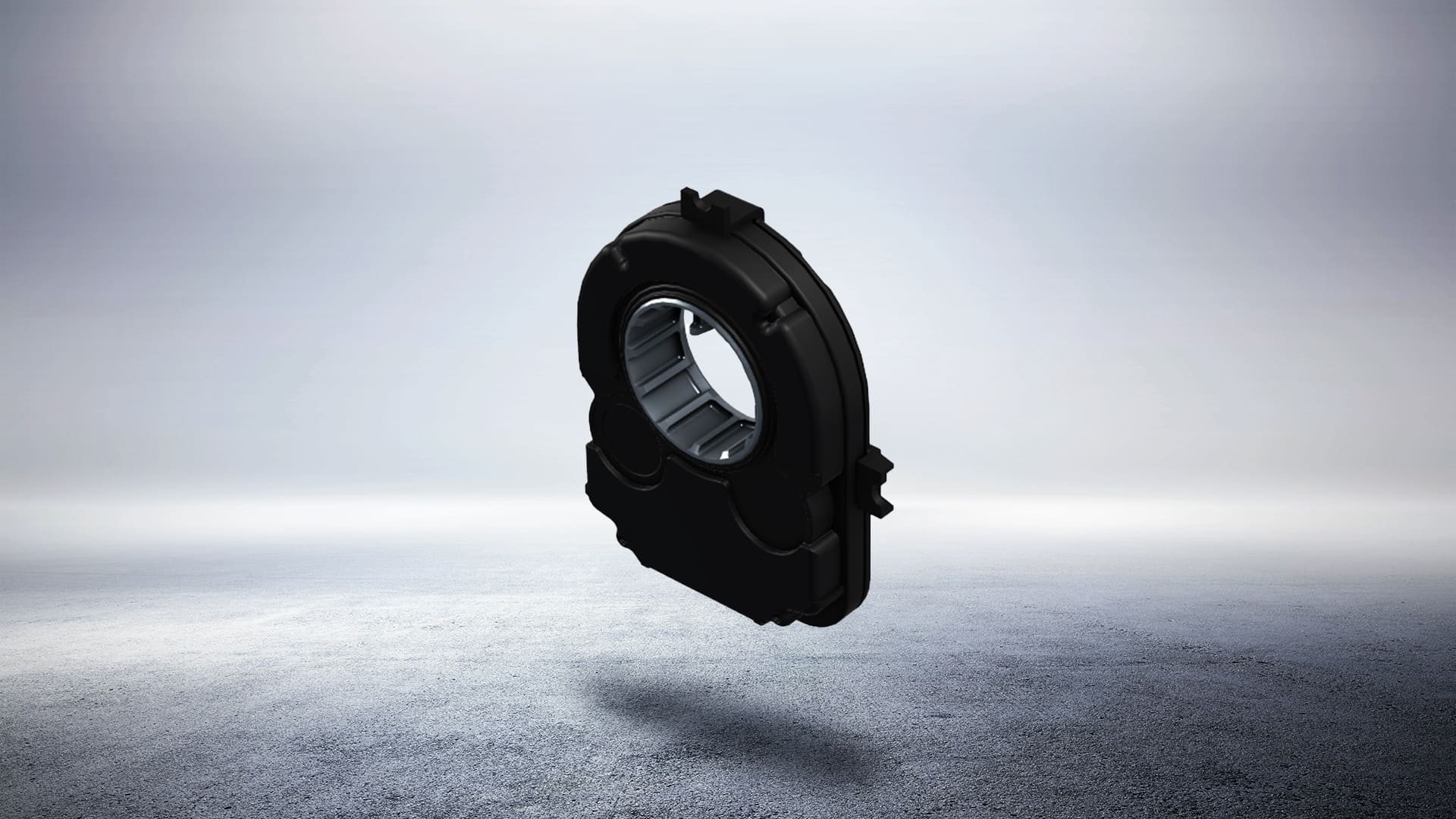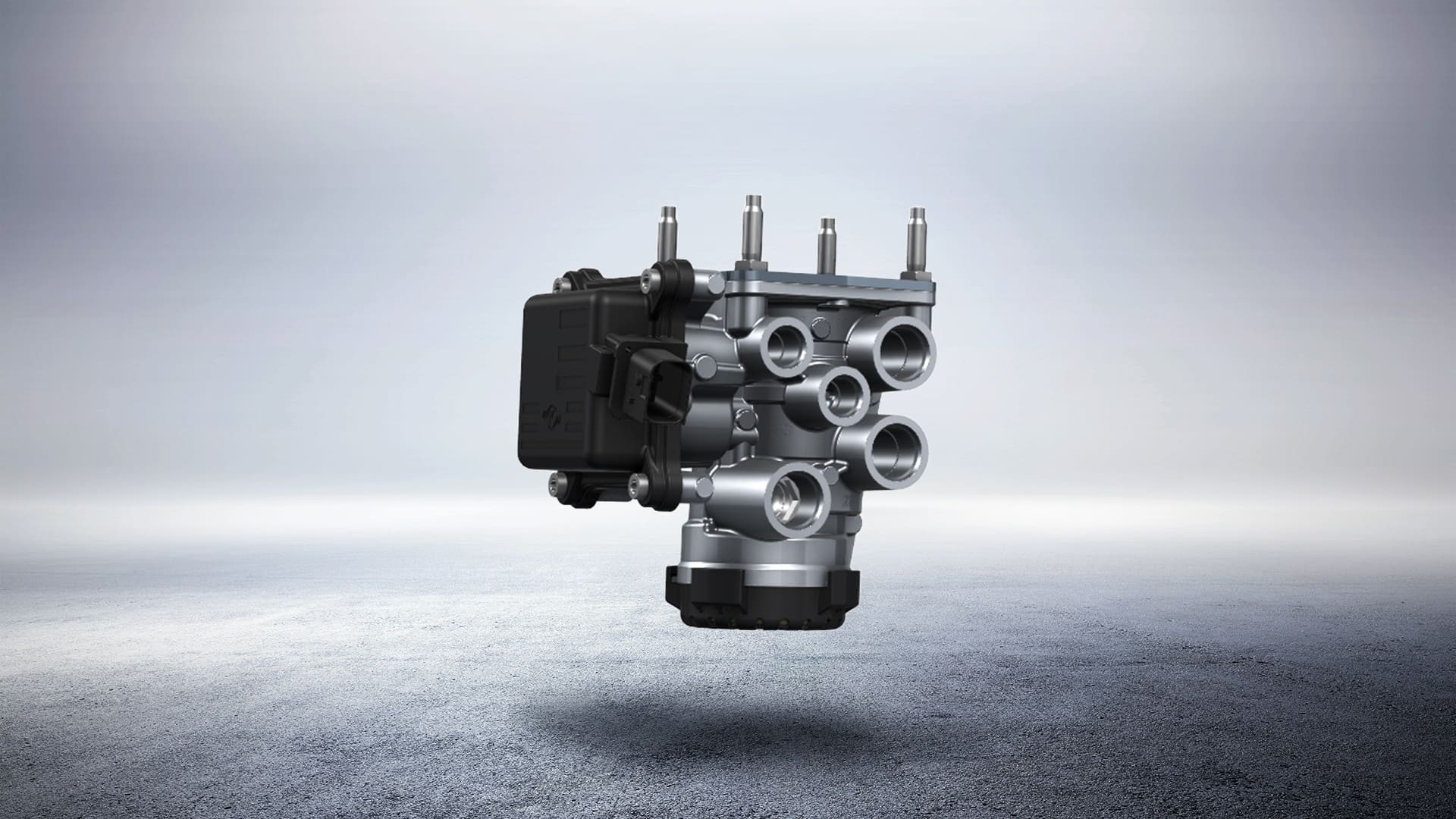 Global Scalable Brake Control (GSBC)
Separate ABS and EBS system landscapes result in unnecessary work on multiple different levels. GSBC from Knorr-Bremse combines these system landscapes into one modular braking control, opening up all new options while lowering costs and reducing the weight of the system. In particular, GSBC offers commercial vehicle manufacturers a future-proof basis for upcoming driver assistance functions, e-mobility and highly automated driving. GSBC offers the latest cyber security functions.
Up to 50 percent fewer parts, more functions
Thanks to streamlining of components and the modular design of the overall system, GSBC allows for cost-optimized system layouts. Now, mounting and connection positions are generally uniform for ABS and EBS configurations. The system also harmonizes routing paths for cables and pneumatic lines. For vehicle manufacturers, this means much less adjustment work is required when switching between ABS and EBS.
Modular software
The GSBC software also uses a modular design. This means that current standard functions like anti-lock braking systems, traction control and over or understeering compensation can be implemented easily. At the same time, the system can also coordinate the interactions between the service brake, retarder, exhaust valves and any electric engines (brake blending). However, additional functions like a hill start aid or automatic brake activation when the cabin or bus door opens can also be implemented easily using the system.
Specialized system architecture for highly automated driving
As an expansion to the GSBC system, Knorr-Bremse is developing specialized braking system to further increase vehicle availability. The overall functionality of these systems can be maintained even if there are faults in individual system components. These redundant system architectures are required to ensure safe and economical operation of a SAE level 4 commercial vehicle. Vehicles of this type are capable of independently handling the entire dynamic driving scenario under certain conditions.
With this design, Knorr-Bremse is pursuing a broad and modular approach, offering products adapted to their specific purpose. The company's product portfolio ranges from solutions for the Minimal Risk Maneuver, which ensure the vehicle can be stopped and parked safely at any time, to the Mission Complete solution, which allows the vehicle to continue driving safely even in case of an error. These are implemented by combined, intelligent system architectures with multiple fall-back levels in order to ensure maximum performance.
Key benefits:
Single platform for all brake control functions worldwide
Combining ABS and EBS system landscapes
Saves significant space and assembly work
Scalable system configurations up to redundancy for highly automated driving
New, specific functions for optimal support of e-mobility – including recuperation and integration of electric engines into the control circuit for vehicle dynamics
Cyber security from production to operation
ISO26262 conforming development for functional safety
The new generation of Trailer EBS
The iTEBS X is the new generation of EBS for trailers. The electronic braking system combines the control unit, sensors and pneumatic braking control in a single, compact assembly. ABS functions and load-dependent braking are both managed electronically within the module. The different variants of the iTEBS X ensure customers get the best possible balance between cost and benefit. This is true especially of the LAC variant with integrated actuator for the lift axle. In addition, the new plug concept ensures excellent flexibility in trailer wiring.
Key benefits:
Cost-efficient modular design
Variant with integrated lift axle function
Uniform trailer layout and harmonization of pipelines
Additional supply connection and integrated overflow valve
Simple installation thanks to consistent assembly points across all product generations.
Flexible and modular HDSCS plug concept
Compatible with all types of towing vehicles
Integrated roll stability program (RSP)
Integrated emergency braking assist